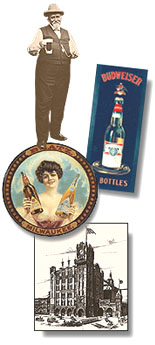 The
Beer History
Library is a
collection
of reference
material on
America's
historic
beers and
breweries.
Check back
occasionally
to see what's
been added.
---
Sign Up For Our
Mailing List Today!
---
Browse our collection of information
about the history of breweries and the
brewing industry in America.


---

This Month's Feature Article...
We Want Beer: Prohibition And The Will To Imbibe.
We've all heard colorful stories about the rum-runners and whiskey bootleggers of the Prohibition Era. But what about the beer trade? How did the nation's die-hard beer drinkers keep their whistles wet? And what role did beer play in the utter and ultimate failure of the "Noble Experiment"? Take a gander at this month's two-part feature and learn about beer's life during National Prohibition. [Read the article.]


Browse The Beer History Library...