[an error occurred while processing this directive]

---
Antique Beer Photos:



Dozens of prints available in a variety of sizes up to 40x50.
Welcome to BeerHistory.com!
• Beer History. Brewing History. Brewery History. It's all here! Surf our site and learn about the rich history of beer, brewing and breweries in America. Cheers!


---

---
[an error occurred while processing this directive]
---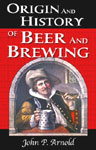 Classic Beer Book Reprinted...
In 1911, John P. Arnold set out to fill a void that existed in brewing literature. The result was Origin and History of Beer and Brewing — a global study of beer throughout history. Up to that point, there had been no such comprehensive study of beermaking. Arnold, a writer and historian, was particularly well-suited to tackle the collossal job of assembling a world history of brewing. He was a long-time writer/editor for the Chicago-based brewing journals Der Braumeister and Siebel Technical Review. In recognition of Arnold's contribution to the study of brewing history, BeerBooks.com has reprinted this groundbreaking book from an original 1911 edition. » Read more at BeerBooks.com.
---

Beer History Trivia Quiz:

#1. What is the oldest active brewery in America? (Hint: It's been brewing beer since 1829.)

#2. What brewery was America's largest in 1895? (Hint: "PBR me ASAP.")

#3. What was the first American brewery to sell beer in cans? (Hint: Think New Jersey.)

Click here for the answers.